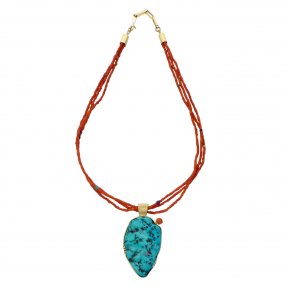 Sonwai and Ken Williams Jr. 2023
August 12, 2023
Annual Indian Market Show and Sale. Open House with the artists August 17th, 12-2pm.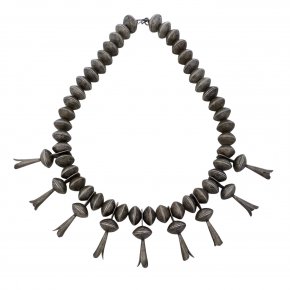 Summer Squash Blossoms
July 20, 2023
During the heat of midsummer when summer gardens are bursting with life and the streets of Santa Fe are bustling with visitors, our favorite accessory is that most iconic of Southwestern necklaces: the Squash Blossom. The origins of this necklace trace back thousands of years to the many cultures of the Mediterranean, where pomegranates have long been a symbol of fertility, paradise and love. When the Spanish first came to the Americas, they brought this imagery with them in the form of decorative buttons. It was the genius of the Native peoples of the Southwest who refined this form, combined it with the crescent naja and named the bulbous, fecund looking beads after the squashes growing in their carefully tended fields. Please join us in celebrating the fruitfulness of summer with this juicy collection of squash blossom necklaces.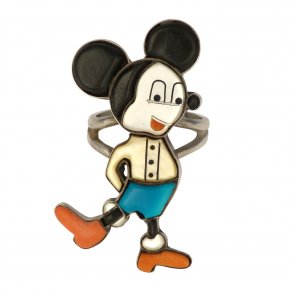 Zuni Toons
July 7, 2023
From a single owner collection, put together over many years, this limited run exhibition features figural Zuni inlay with recognizable pop culture characters.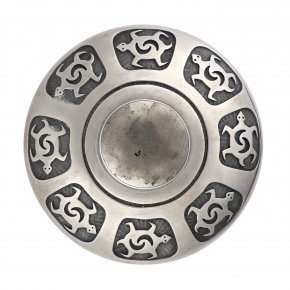 Snow Cloud: Silverwork by Bernard Dawahoya c.1980-1998
June 29, 2023
We are honored to present an extensive collection of work by Hopi master silversmith Masqueva, known to most as Bernard Dawahoya (1935-2011). Bernard Dawahoya was a storyteller, weaver, painter and kachina carver, but found the most renown for his work in silver. Dawahoya began silversmithing as a teenager and worked until almost the end of his life. All examples in this collection are Hopi overlay, where each design is painstakingly sawed out by hand and then soldered over a separate piece of silver, which in turn has been oxidized and matted to create texture. It is always a rare treat to acquire a large collection from a single jeweler. In this case, this group was purchased directly from Bernard over the course of 20 years, and serves as a one of a kind archive for an exceptional jeweler.
Unbounded Creativity: Navajo Transitional Weavings 1880-1900
June 8, 2023
We welcome the joyous colors of summer to Shiprock Santa Fe with an exhibit of Transitional Period Navajo textiles. With the arrival of the railroad to the Southwest in 1881, aniline dyes became available to Navajo artists for the first time. This access to colors previously unavailable to weavers precipitated an artistic movement largely unaffected by outside market forces. It was a time period of great change in all aspect of life in the Southwest, and coincided with a shift in weaving away from wearing blankets towards heavier floor rugs. From wearing blankets to rugs within rugs, this small collection hints at the breadth of style and innovation present during this period of unbounded creativity.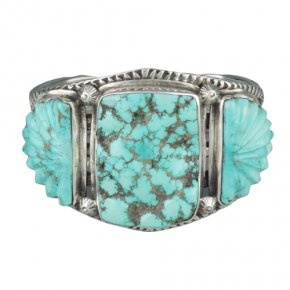 From Bare Feet to Bear Feet: Carved Turquoise 1930-2000
May 3, 2023
We are pleased to present a small collection of carved turquoise from some of the most renowned names in 20th century Native art. For hundreds of years, inhabitants of Zuni fashioned bears, frogs, foxes and other animals from stones, rocks and shells for spiritual, personal and religious use. Beginning in the early 20th century, a cohort of artists from Zuni Pueblo began carving a menagerie of animals from turquoise, coral and shell, with the intention of selling them to traders and tourists. Using a combination of traditional techniques as well as modern equipment, these sculptural works, from artists such as Leekya, Teddy Weahkee, Dan Simplicio and many others took a variety of forms, from tabletop effigies to wearable art. Not confined to the artistry of Zuni Pueblo, many different carvers chose to accentuate the natural beauty of turquoise with embellishments of their own. Some artists took a more abstract approach, finding inspiration in the natural shape of the stone, carefully contouring and faceting the turquoise to accentuate its angles and catch the light.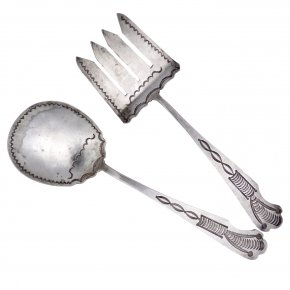 Silver Spring: Native Silverwork 1880-1980
April 13, 2023
Beginning in the 19th century, Native peoples of the Southwest began using silver as adornment, both for themselves and for their horses. The earliest objects were simple, using only files and chisels to create form. Techniques and designs rapidly became more complicated and refined, incorporating stamping, soldering, fabricating and casting. We are pleased to present a new collection of old pieces spanning a century of Native silverwork. From an early pair of Diné hoops to Charles Loloma's modernist shield earrings, this collection demonstrates the myriad of forms this precious metal can take. From functional pieces like bridles and serving sets, to natural and abstracted forms to adorn the body, this collection ushers in Spring with shimmer and shine.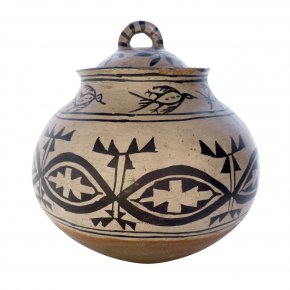 Heartlines: Historic Pueblo Pottery 1880-1920
March 23, 2023
Heartlines: Historic Pueblo Pottery 1880-1920 We are honored to present a stunning collection of historic Pueblo pottery. Representing seven New Mexico Pueblos as well as Hopi, this collection is characterized by the elaborately painted designs found in the early commercial period. Carefully curated over the course of many years, this group has particular resonance with us. The guiding forces behind this collection were boundless enthusiasm and a gentle, caring spirit. To handle objects steeped in history is always an honor, but by assisting in placing these pieces in new homes, we hope to continue the legacy of our friend and her deep seated respect and appreciation for Native cultures.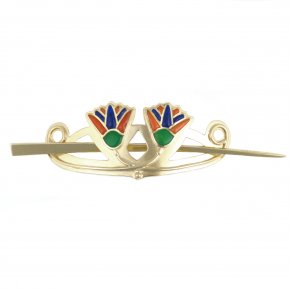 Creative Force: The Jewelry of Eveli
February 1, 2023
Eveli Sabatie's singular vision produced an astonishing legacy of jewelry over her forty year career. The scope and breadth of her creativity is on lavish display in her newly published book "Eveli: A Jeweler's Memoir." Born in North Africa to French parents, Eveli's jewelry career began on the windswept mesas of Hopi, where a chance encounter in a laundromat led her to be mentored by Charles Loloma, a supernova of talent and arguably the most famous Native jeweler. While her design and and technique was honed by Loloma, Eveli went on to forge her own path, working in Santa Fe and then Tucson, where she resides to this day. We are pleased to present a small selection of jewelry which displays her devoted and joyful approach to her craft, showing a deep seated respect for her materials as well as the wearers of her art. "The jewelry I made was usually not of the glittery kind. Most of it is earthbound, and some of it is almost akin to folk art, a sort of narration about life as it was unfolding through me. Yet, once on the body, it is royalty." Please join Eveli for a book signing of "Eveli: A Jeweler's Memoir",February 12, 2023 11:30-12:30pm. Albuquerque Museum 2000 Mountain Rd NW, Albuquerque, NM 87104 505-243-7255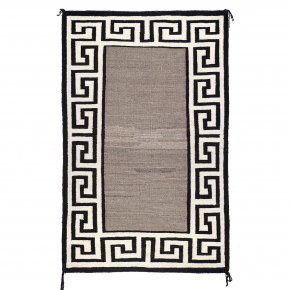 Natural Mystic: Navajo Neutrals 1880-1960
January 19, 2023
Blankets woven from the hues of natural sheep's wool are some of our favorites to incorporate into contemporary homes. Navajo naturals come in many forms, from the most dynamic graphics and striking designs, to minimalist compositions of uniform colors carefully selected from hand-spun yarn. The understated tones of creamy whites and deep rich browns or the striations of carded grays play well with a variety of settings, and can add softness or interest to any room. The weavings in this group were made between 1880-1960 and demonstrate the exceptional skill and refined aesthetic sensibilities that have made Diné weavers renowned through the centuries. While certain trends and styles may come and go, the unparalleled artistry is truly timeless.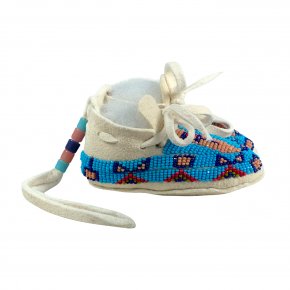 Joyous and Bright: Sonwai and Ken Williams Jr, December 2022
December 15, 2022
We are pleased to present a very special holiday collection featuring work by two of our favorite contemporary artists. With the their characteristic use of exuberant colors, we always love presenting longtime friends Verma and Ken's work together. Sonwai's work is a veritable jewelbox, each piece a precise combination of precious materials; truly the perfect small gift of artistry and opulence. Ken Williams Jr.'s special collection speaks to memories of childhood, from his fanciful interpretations of his favorite breakfast cereals in very grown-up cuffs to the miniature moccasins, recalling his early years of learning to bead and in a form we are not likely to see again. Family is also present in his large scale work, a multi-media piece done in collaboration with his uncle Ben Harjo Jr.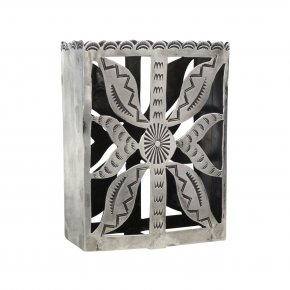 Dishing it Out: Native Boxes and Trays 1930-1950
December 8, 2022
We are pleased to present a group of vintage boxes, trays and keepsakes. Whether a desk accoutrement or a resting place for your daily jewels, a container to keep a treasured memento, a tender missive or the gift itself, these vintage treasures are the perfect present for the person who has everything.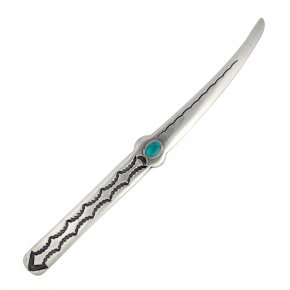 Adored Additions: New Acquisitions
December 1, 2022
We are pleased to present a new collection of pieces from some of our favorite artists as well as a handpicked selection of unique vintage items. Whether molded from the rich clay of the Rio Grande or crafted from the most precious materials, there is something special for even the most discerning recipients on your list. From the intricately woven leather pieces of Aaron Lopez, to the timeless elegance of a Maria Martinez pot, each piece was carefully crafted by skilled hands and will be a unique and treasured gift for years to come.
Autumn Vignette
October 20, 2022
With leaves falling and the evenings turning colder, we wanted to create a collection based on the changing moods of Fall, of bright golden days and crisp mornings. Of lingering with bare feet on the thick bedside rug, unwilling to step onto a cold floor. Of gatherings at home with friends, stretching long into the evening. From the warm ochres of an Ohkay Owingeh dough bowl to the crisp graphics of a Navajo transitional blanket, we hope this group welcomes in the changing season with new comforts for hearth and home.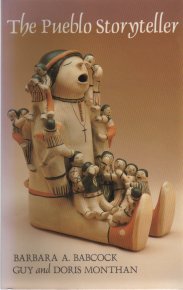 Stories Sung in Clay: Helen Cordero
September 29, 2022
We are pleased to present a delightful collection by one of the most esteemed Native potters of the 20th century. Helen Cordero was born in Cochiti in 1915 but didn't begin making pottery until the late 1950's. An encounter with designer Alexander Girard inspired her to make her first storyteller doll in 1964, ushering in a wildly popular pottery genre. The pieces in this collection date from the 1970's and 80's, her most productive, refined and creative period. The work of Helen Cordero was often inspired by her grandfather and by Pueblo traditions, but was defined by her creativity and innovative spirit.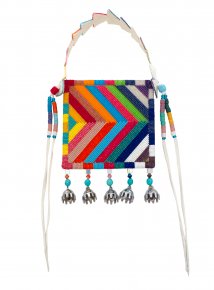 Sonwai & Ken Williams Jr. – August, 2022
August 19, 2022
SONWAI – We are pleased to present our 9th annual show of Hopi master jeweler Sonwai, Verma Nequatewa. Sonwai's latest collection is that of an artist at the peak of her career. Her work perfectly balances technical precision with organic textures. Working from her studio in Hotevilla built by her uncle Charles Loloma, Verma Nequatewa is able to work pushing the boundaries of contemporary jewelry while honoring the rich traditions of the past. KEN WILLIAMS JR. – Ken Williams Jr. recent work springs forth from the fertile ground of his imagination much as the night blooming cereus opens before your eyes, rapidly and astonishingly. The verdant opulence of monsoon afternoons and the rich colors of desert plants in full bloom are reflected in his carefully sourced selection of semi precious stones and vintage beads. William's latest collection finds inspiration in daily life, but relies on his unique vision to turn sights from an evening walk or a remembered childhood treat into his remarkable beadwork.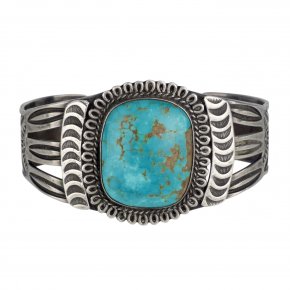 Summer Splendour: Native Jewelry 1920-1950
July 21, 2022
Summer in Santa Fe means opera under the stars, sipping margaritas in sun dappled courtyards, shopping the farmer's market and art markets, and lots of turquoise. We are pleased to present our favorite vintage picks for summertime, inspired by an iconic 1938 image, John Adair's photo of famed Diné weaver Mabel Burnsides. While Mabel's effortless elegance and casual grace is impossible to replicate, we are pleased to offer a selection of wonderful vintage pieces that would look at equally at home on Mabel's arm as your own.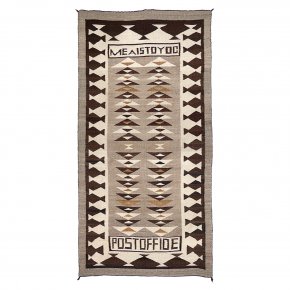 Pictorial Textile Collection
July 6, 2022
While the first known Navajo pictorial weavings date from the 1860s, the art form, like much of Navajo weaving, experienced a radical shift with the arrival of the railroad to the Southwest, and with it access to both Germantown wools as well as brightly colored aniline dyes. We are pleased to present the J. Peter Segall collection, which situates itself at this cultural crossroads and extends until the middle of the twentieth century. Representing more than forty years of focused collecting, the Segall collection does not pretend to be comprehensive in its scope, but rather was guided by a deep appreciation of a true Native American folk art.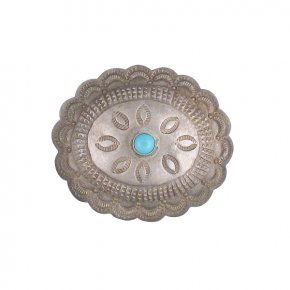 Heart of Glass: Glass beads in Native Art
May 12, 2022
Since the arrival of Europeans to the Americas, glass beads have been widely traded and incorporated into Native art. For many hundreds of years, Venice was the center of European glass production, and Italian glass found its way to the most remote corners of the world. Beginning in the 19th century, Czech glass makers took predominance , and small cottage factories produced huge amounts of glass for export. While the Southwest has always been associated with turquoise, it was not always as plentiful or as available as it is today. In the early 20th century, Lorenzo Hubble imported a characteristic light blue opaque Czech glass, in beads as well as larger chunks. Still known as Hubble glass, today it is a collectible in its own right. In presenting this collection, we are celebrating that sometimes even the most commonplace materials can be used to create precious objects.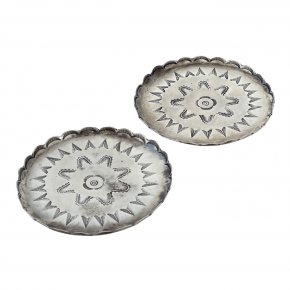 April 14th, 2022: Outside the Box - Silver Objects 1930-1950
April 14, 2022
Beginning in the early 20th century, Native silversmiths began to expand their repertoire beyond jewelry to accommodate the eager stream of visitors to the Southwest. Navajo and Pueblo artists started incorporating traditional techniques such as stamping, repousse, overlay and inlay to decorate a variety of objects such as boxes, ashtrays, flatware and trays. Some of these pieces are truly monumental, and surely represented an exciting opportunity for silversmiths to be working on large-scale objects. Ranging in size from the tiniest pill boxes to tabletop masterpieces, each object in this collection represents an impressive amount of skill, from each solder joint to every perfectly aligned corner.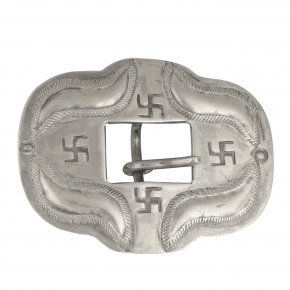 "The Whirling Log and Other Things that Twist and Turn": A collection curated by Zeke Argeanas
March 17, 2022
I chose the pieces in this collection due to my love of movement, and to bring a better understanding and appreciation for the Whirling Log symbol. The whirling log is an ancient Diné symbol known as Náhółhis (Whirling Logs) which represents the North Star and the movement of the Big Dipper constellation over the course of the year, and its daily march through the heavens. As well as marking time, the whirling log serves to divide the universe into quarters and thus create a balanced whole. From twisted wires and curved silver to sacred Whirling Logs, each item emphasizes a sense of movement and of balance. I wanted to express the beauty and symbolism of a Native worldview, and some of the multiple meanings behind the symbol we call Náhółhis.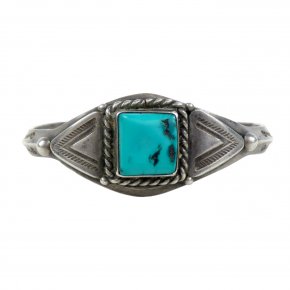 Of the Moment – Young at Heart: Collection Highlights 1860-1980
March 3, 2022
In creating this collection, we are featuring vintage items made for children as well as playful pieces that appeal to kids of all ages. From antique kachina dolls carved as learning tools for children to diminutive silver bracelets made to fit chubby little wrists, and from miniature weavings to exquisite antique childs' blankets, we hope this group inspires you with joy and wonder.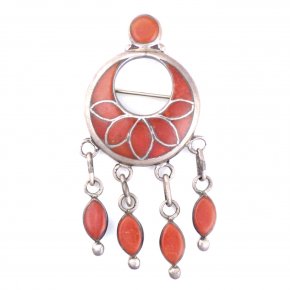 February 3rd, 2022 - The Color of Love
February 3, 2022
For this week's collection love is in the air as we draw inspiration from the season and present a selection of our favorite pieces. Love is seen here in many forms: from Diego Romero depicting his wife and fellow artist Cara Romero as Wonder Woman, to child sized blankets lovingly woven of the softest handspun wool or Ford Ruthlings homage to his family's apple orchard in Tesuque. Whether shopping for your sweetheart or a new piece for you to dote upon, the warm and sweet hues of this collection has something for everyone to love.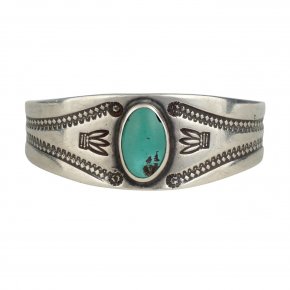 Early Bracelets 1900-1930
January 20, 2022
From diminutive bracelets to heavy cuffs, and from swirls of repousse to stunning stones, we are pleased to present an exceptional group of bracelets from our vault. Stretching across the last decade of the 19th century to the 1930's, this collection represents a variety of techniques and designs for all tastes. No matter your stylistic preference, there is one constant when collecting great old cuffs: that magic feeling when you find the perfect bracelet.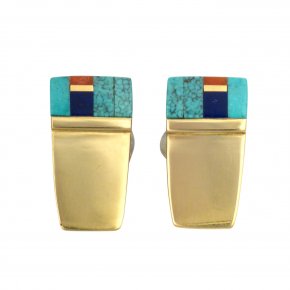 December 9th, 2021: Sonwai – Quiet Opulence
December 9, 2021
We are pleased to present our final collection of the year. Featuring a capsule collection by Sonwai, an exquisite group of one-of-a-kind offerings that perfectly balance technical perfection while keeping true to the organic feel of her raw materials. From the sinuous shapes of her tufa cast cuff to the delicate strands of antique beads complemented by hand shaped gold cones and beads, this group shows Sonwai in all her glory. We have supplemented this collection with a small selection of quietly opulent vintage pieces. Not the biggest, and not the flashiest, simply a focus on detail, color and materials.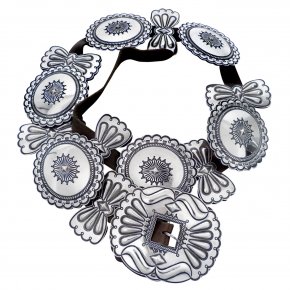 A Constellation of Native Artists: New Acquisitions December 2021
December 2, 2021
From covetable coral to glittering gold, we are pleased to present a selection from some of the brightest stars in Native jewelry. Featuring a exquisite new collection from Diné jeweler Zeke Argeanas, who honors his ancestor's work through his use of traditional techniques and whose refined skill belies his young age. He joins a cadre of contemporary and innovative jewelers whose work we are privileged to represent. From rising stars like Zeke to supernovas like Charles Loloma, there are gems in this collection for everyone to shine a little brighter.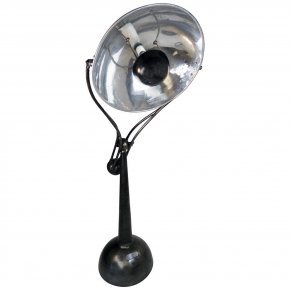 November 11th, 2021; One-of-a-Kind: Unusual and Exceptional Pieces 1870-2000
November 10, 2021
From an unparalleled Diné weaving depicting the Hopi snake dance to a monumental necklace of Royston turquoise, we are pleased to present a group of truly one-of-a-kind pieces. Whether it be an American folk art goat originally used in Odd Fellows initiation or a mosaic bracelet by visionary jeweler Eveli Sabatie, all of the pieces in this collection stand alone as exceptional examples of original art.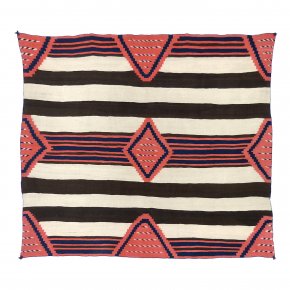 October 21st, 2021 - Hail to the Chief: Navajo Chief's Blankets 1860-1930
October 21, 2021
In the 19th century, a new style of wearing blanket began to be woven by Navajo weavers. Characterized by broad horizontal bands, and initially made in brown, white and blue, these blankets were meant to be worn. Weavers began adapting and adding variations to the design, raveling imported trade blankets and weaving red wool into squares and diamonds, all the while considering how the blankets draped around the human form. They became known as Chief's blankets due to their popularity among neighboring Plains tribes and were valued as the finest blankets in the world, the weave so fine as to be practically impermeable. Treasured by peoples living their life on horseback, they were a luxury item, a symbol of wealth and status among Native and non-Native peoples alike. This collection features seventy years worth of weaving, and illustrates that while the first blankets were markers of a moment in time, these styles and phases continued to be woven through the twentieth century and into the present day.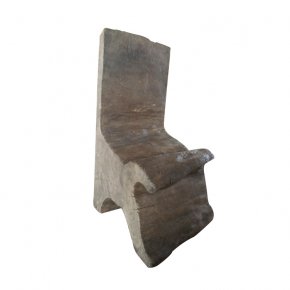 Gray Matter: New Acquisitions for Fall 2021
September 30, 2021
After the riotous colors of summer have begun to fade, and our gardens are tucked in to sleep for the winter, we begin to think of a quieter color palette for the crisp nights ahead. Creamy whites, luminous silvers and soft greys feel right at home as the evenings grow colder and our focus turns inward. Whether adorning yourself or updating your home with a few choice treasures, we are pleased to present a collection of historic rugs and pottery, as well as some choice pieces of jewelry both contemporary and vintage.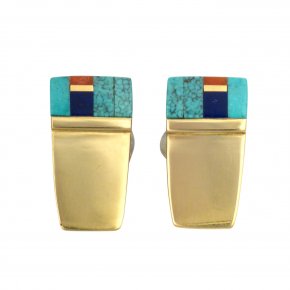 Sonwai Summer 2021
August 19, 2021
For the 8th consecutive year, we are pleased to welcome master jeweler Sonwai, Verma Netquatewa, for an trunk show of her exquisite work. Sonwai is the inheritor of the artistic tradition begun by her uncle Charles Loloma, with whom she worked for many years, and whose studio she now calls her own. Verma's work is distinctly her own, and continues to grow and evolve, making her one of the most desired artists for collectors of cutting edge Native jewelry. Please join us for an opening honoring Verma from 2:00pm-5:00pm on Thursday, August 19th, 2021. 
Ken Williams Jr. Summer 2021
August 19, 2021
For the 6th consecutive year, Shiprock Santa Fe is proud to present the contemporary beadwork of Ken Williams Jr. ( Arapaho/Seneca.) Whether it be an abstracted human form cradling a precious heirloom or a beaded homage to a favorite artist, Ken imbues each piece with his inimitable style and personality. Please join us for an opening for Ken from 11:00 am-2:00pm on Thursday, August 19th, 2021.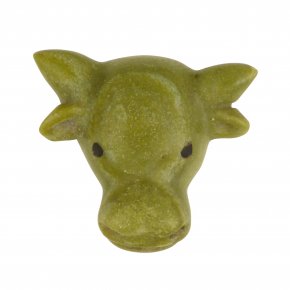 August 2021 -- August Highlights
August 11, 2021
Our newest online exhibit features some of current favorite offerings for August. From a 1890's Cochiti opera singer to a Loloma cuff to wear to the Santa Fe Opera, please enjoy this feast for all tastes and styles.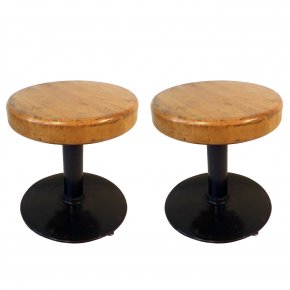 July 8th, 2021: Mid-Century Out West
July 8, 2021
Mid-Century Out West For this week's exhibition, we are pleased to present a collection of vintage pieces that harken back to the 1950's, an era of design ushered in on waves of optimism for an atomic future and a refined sensibility that focused on form over ornamentation. In the Southwest, traditional materials were transformed into modern rugs and jewelry with clean lines, bold graphics and strong optics. We have long been fans of the beautiful lines and quality materials found in great mid-century pieces, no matter the origin. This collection brings together favorite finds from around the world together with objects made closer to heart and home, all of which have a truly timeless feel.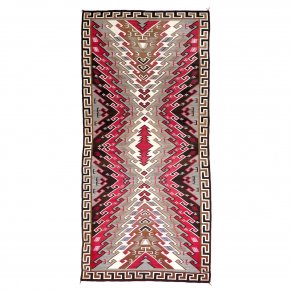 June 24th, 2021 - Ganado Red: Weavings 1890-1950
June 24, 2021
In 1878 Juan Lorenzo Hubbell bought the trading post at Ganado, and over the next fifty years exerted enormous influence on the region. He had wholesale accounts with Fred Harvey curio shops across the Southwest and produced mail order catalogues of Navajo weavings to be sold across the country. Hubbell worked with hundreds of weavers and thousands of weavings. Thought to be one of the first traders to promote Navajo blankets as rugs, he encouraged weavers to produce larger, heavier pieces, to take special orders and produce unusual designs. His stylistic preferences tended towards reds, greys, blacks and whites, and he had a penchant for design elements such as Spiderwoman crosses and serrated edges. Weavers, in turn, responded to his tastes and produced more rugs incorporating these designs. J.L. Hubbell was hugely influential in promoting, marketing and commercializing Navajo weaving, but the true originators of what we now consider Ganado style were the weavers themselves. Laboriously produced by hand, over many months, the weavings and designs are the result of the imagination, creativity and master artistry of Diné weavers.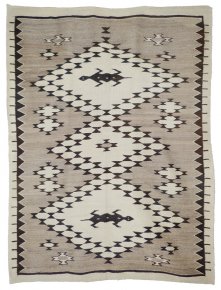 June 10th, 2021 - Where the Wild Things Are: Animal Imagery in Native Art
June 10, 2021
Stamped, carved, woven or constructed, animals and insects are perennial favorites in Native art. Inspired by the natural world, we see animals that exist in the arid country of the Southwest, or that play important parts in Native cosmologies, but occasionally the inspiration is from farther afield. Ideas of transformation, fertility and strength are found in images of butterflies, frogs and bears, to name a few, but there are as many meanings behind the art as there are artists creating them. Ranging from faithful, exacting representations to fanciful interpretations based more on imagination than fact, we are pleased to present a wild assortment of birds, beasts and insects to add to your own menagerie.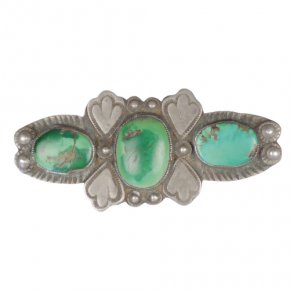 May 18th, 2021 - An Enviable Color: Green Turquoise in Navajo and Pueblo Jewelry 1900-1950
May 18, 2021
We are pleased to present a new collection of old jewelry, a celebration of shell, stone and silver, of handrolled beads made smooth with age and perfectly patinated silver. Most of all, it is an ode to green turquoise, made luminous by generations of wear. Turquoise sometimes darkens with age, and its unique range of colors is caused by the mixing of copper and aluminum, and for a greener hue, by trace amounts of iron. From the pinpoints of turquoise set into the carved shell of the antique Pueblo necklace to the perfectly matched triple cabochons of our 1930's braided wire cuff, the stones in this group take many forms and colors, but all uniquely beautiful enough to inspire the friendliest sort of envy.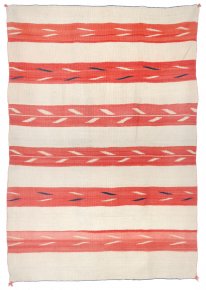 May 6th, 2021: Darling Buds of May
May 6, 2021
This week's collection arrives on the lilac scented warm breeze of spring, and features a selection of antique textiles in fresh, seasonal colors. Inspired by the season and the darling buds of May, as well as one very special pictorial— The weavings in this exhibit range from playful to masterful, and all demonstrate a love of color and the technical expertise that has made Diné weavers famous the world over. Currently on display in the gallery for the rest of this glorious month.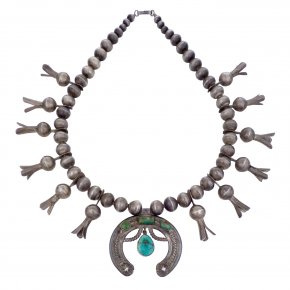 April 9th, 2021 - Strands of History: Navajo and Pueblo Necklaces 1890-1950
April 9, 2021
The beauty of antique jewelry is often a tactile as well as a visual pleasure, when edges are blunted with age and soft to the touch, and silver is worn smooth with time. We are pleased to present a collection of iconic, historic necklaces, an exquisite selection which demonstrates the wide variety of styles created by Diné and Pueblo peoples. From the delicate hammered crosses of the Pueblo necklace, to the handmade beads and geometric turquoise details of our 1910 Navajo sand cast naja, or the many hued turquoise and stylized blossoms of a Zuni beauty, there is something special in this collection for all tastes.
March 25th, 2021: Salad Days - Serving Sets, 1920-1960
March 25, 2021
As the long winter recedes, and the weather warms, our thoughts are turning to eating outside, to celebrations long postponed, and lavish outdoor picnics. We are pleased to present an unprecedented selection of serving sets: this exhibition is the fruit of years of hunting, and the marrying of two distinct collections into one gorgeous presentation. Dating from the first half of the 20th century, these pieces display beautiful Navajo artisanship on gorgeous sterling silver. Setting your table and dishing up a fresh, crisp salad with any of these vintages treasures is enough to turn anyone green with envy, but we hope instead that they serve in bringing us together with loved ones again to enjoy the pleasure of shared meals.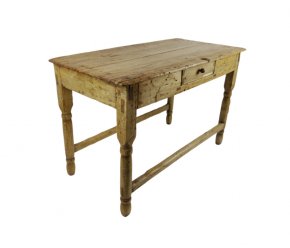 March 4th, 2021: Work on the Railroad, 1880-1930
March 4, 2021
In the 1880s, the railway was expanding across the United States, bringing changes throughout the country, especially to the Southwest. The trains brought tourists, salespeople and settlers, an influx of new materials, and a new market for artists. Potters at Cochiti Pueblo began creating large human figures in clay and selling them to visitors. Remarkable for their innovative and technical design, they were representations of the outsiders arriving via the railroad, circus performers, opera singers, travelers and tourists. The Cochiti "mono" featured here is most likely a spectator, his houndstooth waistcoat and hobnail boots rendered in slip, and his pipe firmly clenched between his teeth, a somewhat quizzical expression on his face. This week, we present a selection of objects produced between 1880-1930, in which Native artists of the Southwest were responding to a rapidly changing reality by using innovative techniques and materials.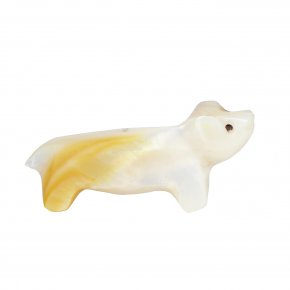 Fritz Scholder: Color Story - February 18th, 2021
February 18, 2021
For this week's exhibition, we draw inspiration from one of our favorite artists, Fritz Scholder, and his 1971 lithograph "Indian at the Circus." Scholder was a multi-disciplinary artist, poet, educator, world traveler and collector whose influence on 20th century Native American art cannot be overstated, and whose creativity stemmed from his shrewd observations of the world around him. Like Scholder himself, who saw color as a guiding force in his work, we found inspiration for this collection in the vibrant greens and pinks of "Indian at the Circus", in objects which revel in their use of color, and in the juxtaposition of light and dark which characterized so much of Scholder's work.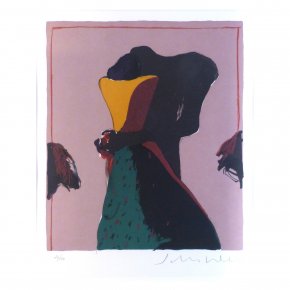 Fritz Scholder: Additional Works - February 18th, 2021
February 18, 2021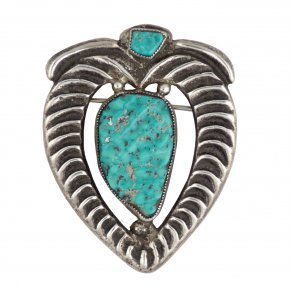 February 4th, 2021 - Reflecting the Sky: Navajo and Pueblo Jewelry 1900-1980
February 4, 2021
While Southwestern jewelry is rooted in tradition and a sense of place, certain pieces transcend geographic boundaries and look at home anywhere in the world. For this weeks' exhibition, we are pleased to present a collection inspired by the electric blues and silvery whites of the clouds overhead. Like the intricate channel inlay of Tom Bahe's cuff or the painstaking repousse of a 1900's Navajo cuff, the vintage pieces in this exhibition use different techniques and styles, but each was carefully selected for its timeless beauty. We hope that this collections reaches you like a breath of fresh air, and reminds us all of brighter, bluer skies ahead.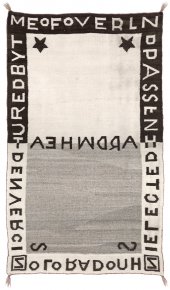 January 21st, 2021 - Collecting History: Navajo Textiles 1885 - 1950
January 21, 2021
Striated grays, rich, deep reds or whimsical, unusual designs. Reflecting on the curation process for a personal collection, you begin to see commonalities across the pieces, similarities and themes; a family resemblance of sorts. We are always pleased to be given the opportunity to handle a large collection. In the case of this group of vintage and antique Navajo textiles, the criteria for inclusion in the collection was multifaceted, largely being formed of Navajo double saddle blankets as well as being chosen for a personal inclination towards certain colors. As a whole, they tell a consistent story, but viewed individually, you see the exceptional qualities of each weaving. Each blanket contains variations of history, personal experiences, and of lives lived. Collected over a period of many years, we are pleased to exhibit this group for the first time, and hope that the individual pieces will seed many future personal collections.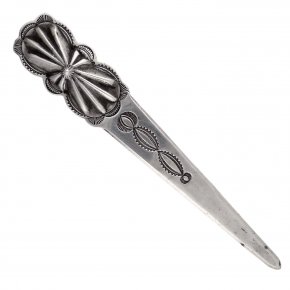 December 18th, 2020 - Birds and Beasts: Vintage Letter Openers 1930-1970
December 18, 2020
From whimsical to elegant, we are pleased to present a wonderful selection of vintage Navajo letter openers. Birds, beasts, swords or shapes, each letter opener in this collection adds refinement and beauty to any desk, be it in the executive headquarters or the comfort of your home office. We are firm believers in the idea that a bit of luxurious whimsy helps make every day at work a little brighter.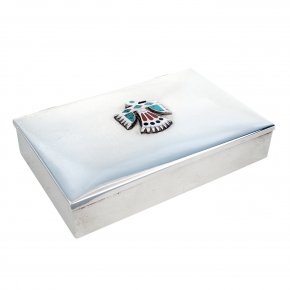 December 18th, 2020: New Silver Boxes
December 18, 2020
Soldered, stamped, overlaid or inlaid: all of the silversmith's many techniques are displayed in one perfect object: the silver box. Whether adorned with bezel set stones or not, each box contains a impressive amount of work, for each solder joint and corner to be perfectly aligned and planned for that satisfying click to happen when the lid shuts. Whether a place to keep a precious memento, to display with other treasures, or to convey an important missive to someone special, these miniature masterpieces make the perfect gift. This holiday season, sometimes the best presents ARE the smallest boxes.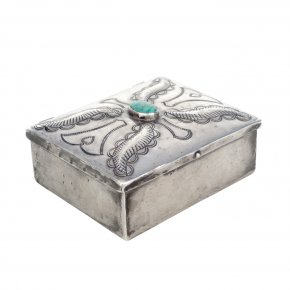 December 9th, 2020: Little Silver Boxes - Miniature Masterpieces
December 9, 2020
Soldered, stamped, overlaid or inlaid: all of the silversmith's many techniques are displayed in one perfect object: the silver box. Whether adorned with bezel set stones or not, each box contains a impressive amount of work, for each solder joint and corner to be perfectly aligned and planned for that satisfying click to happen when the lid shuts. Whether a place to keep a precious memento, to display with other treasures, or to convey an important missive to someone special, these miniature masterpieces make the perfect gift. This holiday season, sometimes the best presents ARE the smallest boxes.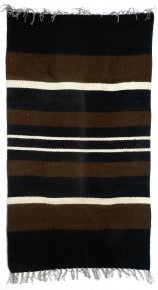 November 19th, 2020: Rich Ochre and Luminous Silver
November 19, 2020
As we find ourselves once again slowing down and limiting our activities, we are turning our focus inwards and towards the textures, patterns and colors of our southwestern desert home. From the burnished ochre on an Acoma polychrome olla, the wonderful striations of brown wool on a twill Navajo saddle blanket, or the precise inlay of Eveli's ring, which recalls a rich vein of turquoise in its subterranean origins, we find joy in the artistry, tradition and beauty of the region.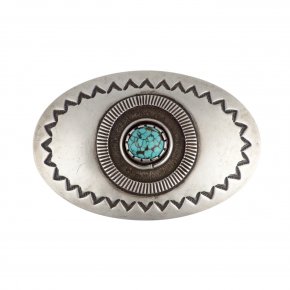 November 5th, 2020 - Treasures from Pueblo Masters
November 5, 2020
While it may seem somewhat incongruent to group together so many different sovereign nations under the Spanish word for town, the Pueblos of New Mexico and Arizona each have distinct artistic and cultural traditions and attributes, they also have many commonalities as well. With this collection, we are celebrating the variety and mastery of materials by the descendants of the original inhabitants of the American Southwest. Shiprock Santa Fe is pleased to present a group of pieces by renowned Pueblo artists, both contemporary and historic, as well as a few works from unnamed master weavers, potters and jewelers of the 19th and early 20th centuries. From a stylized, updated representation of the Chongo brothers by Diego Romero, an exquisite matched pair of deeply repoussed cuffs by Ralph Tawangywayma and a stunning abstracted gold ring by Charles Loloma, the mastery of Pueblo artists is on full display.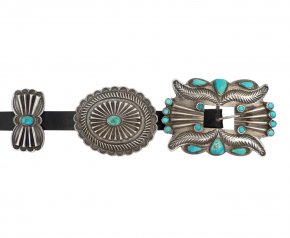 October 16th, 2020 - Form Over Function: Native Concho Belts 1880-2020
October 16, 2020
Conchos or conchas, from the Spanish word for shell, first appeared in the Southwest as ornamentation on horse bridles. Both Plains tribes peoples and Spanish silversmiths used bridle decorations reminiscent of present day conchos, but it was Navajo ingenuity that shaped and shifted a horse decoration to the iconic piece of Southwestern jewelry that concho belts are today. Moving into Fall and opportunities for layering, either worn with jeans, peeking out from underneath a chunky sweater or cinched around a suede skirt, concho belts are always a fabulous option. The scalloped edges, massive buckle, repousse and stone settings of a Third Phase, or the beautiful simplicity of the rounded domes and rocker engraving of a classic First Phase, the bright flash of silver on your waist has a way of elevating any outfit. This titillating collection spans 140 years, and represents a brief history of the concho belt, as interpreted by the unknown silversmiths of the 19th century to contemporary master jewelers such as Cippy Crazy Horse and Mckee Platero.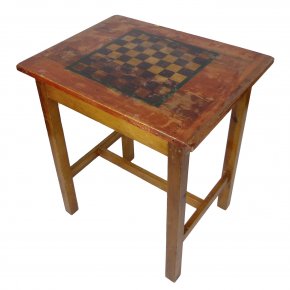 October, 2nd 2020 - Fall Collection
October 2, 2020
This has been a year like no other, where the world is strange and there is so much unknown ahead of us. Perhaps that's why this collection feels so comforting. It allows us to remember that chamisa is still blooming in the arroyos, piñón is being gathered in the foothills and Fall has begun its inevitable march towards Winter. The inspiration for this collection are the warm browns and golds of autumn, found in the polished tigers-eye of the exquisite cuff by Richard Chavez, in the smoothed pit fired clay of Pueblo ceramics, and in the hand spun wool of Navajo blankets. Allow yourself to enjoy the crisp mornings, the late season bounty at the farmers market, and this collection, conjured by our favorite season.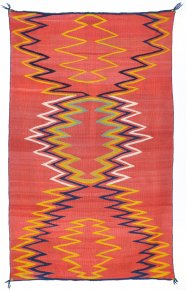 AUGUST 27th, 2020 - Rare Beauty: Navajo Weavings 1875-1940
August 27, 2020
Eye dazzling wedge weaves, the mathematical precision of diamond twills, and perhaps the most unusual of all, the longhaired, lustrous weavers mat. As our final offering for August, we are pleased to present an extraordinary collection of Navajo blankets in some of their rarest forms. The weavings in this exhibit were made between 1875 and 1940, and represent a variety of styles and techniques, but all of them began life as functional objects. As pieces of art they are beautiful, but when understood as creative solutions to everyday challenges, they are exceptional. Unfortunately, we will never know the names of the weavers who dedicated time, energy and copious skills to creating the pieces highlighted here. But we can applaud an approach to living that celebrates great beauty in daily life.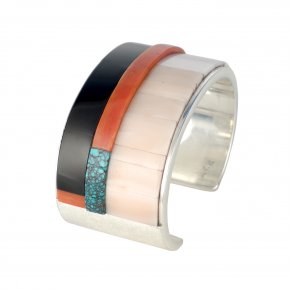 August 14th, 2020 - Modern Mastery and Enduring Innovation
August 14, 2020
Modern Native jewelry designers like Charles Loloma, Julian Lovato, McKee Platero, Jesse Monongya, and Richard Chavez have collectively altered the path of contemporary Native jewelry in balancing tradition with experimentation by adding personalized style and unique creative mastery.  Using materials once too difficult or expensive to attain, paired with skills and techniques learned from other disciplines, these artists have established that creativity and inspiration are the only limits to what can be achieved in silver and gold. We are pleased to present this collection of enduring innovative designs, highlighting both traditional and modern styles, which continue to inform and inspire the emerging artist of today.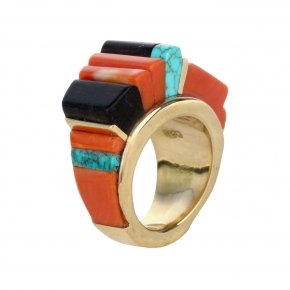 August 11th, 2020 - Sonwai
August 11, 2020
Sonwai Indian Market Show 2020 Coming off a landmark show at the Heard Museum that closed in 2019, master jeweler and artist Sonwai (Verma Nequatewa) continues to captivate collectors with her imaginative and tasteful use of high quality materials and traditional techniques. We are honored to present Sonwai's 7th annual Indian Market show at Shiprock Santa Fe. The collection features a three strand necklace of Nevada Blue turquoise, an elegantly sculptural tufa cast bracelet in silver, and a stunning pendant with silver dangles tipped in fossilized ivory, ebony, and coral, among other signature forms. Sonwai will be in the gallery on Thursday August 13th to meet with individual clients by appointment. Please call ahead. The schedule is limited.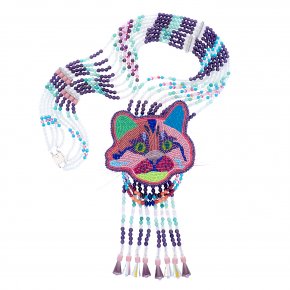 August 11th, 2020 - Ken Williams Jr
August 11, 2020
Ken Williams Jr. : Everyday Joy, 2020 Ken Williams Jr. has supplied us with his most personal body of work to date. While resoundingly true to his exuberant style, this show draws on themes many of us have experienced in the past several months: a slowing of pace, a deepened appreciation for the small pleasures in life, and finding joy in everyday experience. Ken demonstrates his joie de vivre with every piece he produces, using his trademark riotous color combinations and lovingly curated mix of semi-precious, vintage and traditional materials. Whether depicting his Friday evening ritual of making pizza at home with Orlando and their cat Valentino, or the fleeting beauty of a yucca in full bloom spotted on the roadside, Kens work always reminds us to live life to its fullest every single day.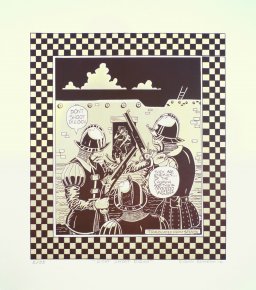 August 11th, 2020 - Diego Romero
August 11, 2020
Diego Romero Ceramics and Lithographs 2020 Was it a prophetic vision or an ironic coincidence that in October of 2019 the Museum of Indian Arts and Culture mounted the biggest show of Cochiti ceramicist Diego Romero's work with the title "Diego Romero vs. The End of Art?" The monumental ceramic bowl that was created for the exhibition details a catastrophic vision of the museum under water with Chongo paddling through the flood in a life raft. In hindsight this apocalyptic vision conjures similar emotions to the world we are experiencing today. Here's a hint, it is not a prophecy. It is Romero's ability to tie the past to the present in a way that is outside time. In his narrative paintings on ceramic, Romero a self-proclaimed "chronologist on the absurdity of human nature" brings an understanding of classical history, indigenous knowledge, and a satirical/comedic perspective to the trials of human kind whether it is depicted through Chongo (himself) or important figures in history. For our second annual Indian Market show featuring Diego Romero, Shiprock Santa Fe is excited to present new monumental ceramic works as well as a limited run lithograph in two states. We invite you to engage with the stories of Popé, Coyote, and the modern Pueblo woman through his unique illustrative perspective.
August 6th, 2020 - August Anticipation
August 6, 2020
At Shiprock Santa Fe, anticipation bubbles up as the summer stretches into August. Preparations set in place months before finally culminate in curated shows, and the thrill of discovery heightens our daily interactions. We are pleased to present an unmatched collection of early historic Navajo and Pueblo jewelry as our first offering in August. Selected by discerning eyes, this collection serves as a window to what guides us, be it the mark of an early tool, the smooth feel of worn silver, the style and balance of a particular artist, or the singular beauty of hand polished stone. While we are missing the rush of the shows, laughter under the stars and the warm embraces of friends, we are so excited for all that we have to share.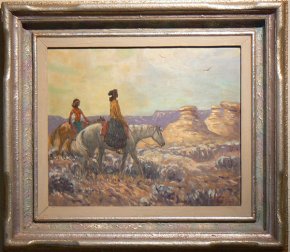 July 30th, 2020 - Saddle Up
July 30, 2020
Nothing compares to the feeling of riding a horse full tilt under the endless skies of the American West. For hundreds of years, horses have played a key role to inhabitants and visitors alike, and the rush of freedom felt on horseback has captured the imagination of countless artists. This week, our featured collection shows the myriad of forms this inspiration has taken, from an exquisitely inlaid turquoise and silver horse bit to the iconic bucking bronco rendered in yucca and bear grass. Wherever you may be in the world, we hope this collection brings you a sense of the wide open skies, the smell of horse sweat and the creak of leather tack. Grab your hat and saddle up!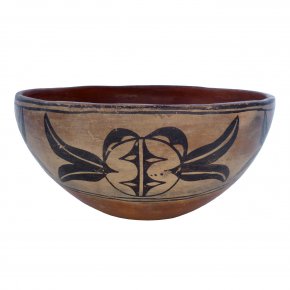 July, 23rd 2020 - Feast Day at Kewa Pueblo
July 23, 2020
We have been thinking about hot, dusty summer days, rainclouds gathering over the mountains in the afternoons, bringing flashes of lightning and the distant rumble of thunder. Summer is when Kewa Pueblo celebrates its annual feast day, and this week, we are pleased to offer a collection of vintage and antique bowls from our neighbors at Santo Domingo Pueblo. The bowls in this collection are utilitarian, and in many instances show the marks of enjoyment and hard use. Looking at this group, it is easy to imagine luminous red chile dripping down the sides, or soaking up stew with bread freshly baked in earthen hornos. These bowls were made in Santo Domingo Pueblo, to be used and enjoyed during feasts and other celebrations. They all have personalized touches, including initials scratched into the bottom so that in the tangle of feasting, stew bowls and borrowed bread bowls can find their way back to their owners. Until a time when we can all celebrate together again, this feast for the eyes will have to suffice.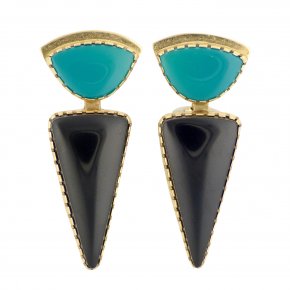 July 16th, 2020 - Of the Moment: Lightning Strikes and Golden Tassels: Collecting Creativity
July 16, 2020
We are pleased to feature a group of earrings lovingly acquired over a number of years by one fortunate collector. Guided by a deep love for the Southwest, this collection features work by the top names in contemporary Native jewelry. From a showstopping single earring by Hopi master Charles Loloma with a perfect piece of Lone Mountain topping twin strands of lapis beads and ending in gold tassels, to a fanciful homage to summer thunderstorms made of 18k gold painstakingly inlaid with a variety of precious materials by Jesse Monongya, this group represents fine jewelry at its pinnacle of creativity and playfulness.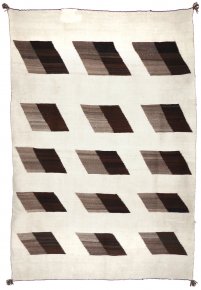 July 10th, 2020 Of the Moment - (Un) Dyed in the Wool: Natural Navajo Weavings 1880-1940
July 10, 2020
From eye catching graphic designs to subtle gradations of grey, we are pleased to present a collection of antique and vintage Navajo weavings in natural wool. A weaver demonstrates skill not only in the fineness of the actual weaving, but with the careful selection, carding and matching of wool from different sheep. Nowhere is that skill more apparent than in uniform expanses of creamy whites or when a delicate ombre is achieved with shades of grey. All of the weavings in this group were made between 1880-1940 and display a truly refined aesthetic sensibility, allowing them to look at home in the most contemporary of settings. While some of the weavings in this collection have intricate designs, all of them exude a feeling of calm. These days, that's something we can all flock to.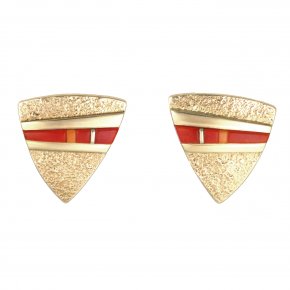 June 18th, 2020: Sonwai
June 18, 2020
High above the dusty plains of Northeastern Arizona sits the village of Hotevilla, perched on the edge of Second Mesa with views that span hundreds of miles, looking towards the San Francisco peaks in the distance. This is the home of Hopi master jeweler Verma Nequatewa, and where she creates her exquisite pieces in gold and silver, using her artistic moniker, Sonwai. Sonwai is the inheritor of the artistic tradition begun by her uncle Charles Loloma, with whom she worked for many years, and whose studio she now calls her own. But her work is distinctly her own, and continues to grow and evolve, making her one of the most desired artists for collectors of cutting edge Native jewelry. Many of her designs incorporate tufa casting, which, combined with precious materials from around the world, give an organic feel not often found in contemporary jewelry. For more than 10 years, Shiprock Santa Fe has hosted an opening for Sonwai on the eve of SWAIA's Indian Market. This year, we will continue our yearly celebration of Sonwai's artistic prowess, although Indian Market will exist this year only on-line. We present this collection as a prelude to her opening, and with the sincere wish that you will all be able to join us in, either virtually or in person, in August to celebrate the work of this extraordinary woman.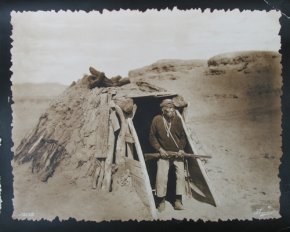 June 10th, 2020: Fathers Day Gift Guide
June 10, 2020
For the upcoming celebration of Father's Day, Shiprock Santa Fe's gift guide has
offerings as unique as the special man in your life.

 Patinated leather, rough wood, simple silver and historical objects: some
wearable, some utilitarian, and some with a story to tell. 

 From cufflinks to kachinas, we filled this collection with objects of beauty
and usefulness to adorn his workspace, his home and himself. 
May 28th, 2020: Of the Moment - Navajo & Pueblo Necklaces
May 28, 2020
From delicate to jaw dropping and from organic to refined, this weeks curated collection highlights the southwestern necklace in many of its forms. Carved Zuni fetishes, old car battery casings, polished pieces of shell and minuscule hand hammered gold beads are just some of the materials found in this group of necklaces. Truly expansive in its variety, some of the highlights of this group include the hand rolled beads from Santo Domingo master Charles Lovato, the organic cascade of turquoise in our necklace of antique joclas, and that elusive favorite of Southwest aesthetes: the Pueblo cross necklace.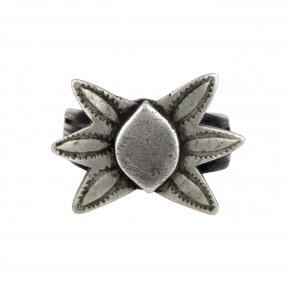 May 21st, 2020: Treasures from the Vault
May 21, 2020
From buttons to beads and from conchos to ketohs, we are excited to share with you some of our favorite pieces of vintage and antique jewelry from "the vault". Tucked away and under lock and key is an old safe door from a long forgotten bank, hand painted with a clipper ship. This is our vault and where we keep some very special pieces. Not all of our jewelry is on our website, so we decided this week to share some previously unlisted pieces from the archives. Ranging from quirky to phenomenal, this collection of early Navajo jewelry is united by the individuality of each piece. From a rare child's ketoh to the splendor of a First Phase concho belt, it is finally time to let these treasures out of the vault.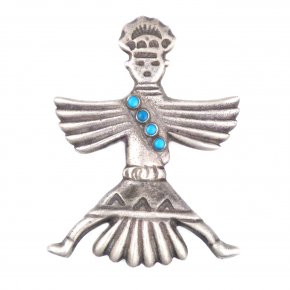 May 14th, 2020: Cast Away! - Native Cast Jewelry
May 14, 2020
Native American cast jewelry is traditionally produced by pouring molten metal into molds carved out of sandstone or the softer tufa, a stone formed from organic ash. Whereas stamps can be used hundreds of times on countless pieces of jewelry, casts made of sandstone or tufa have a very limited lifespan. Each mold only survives a handful of castings, while some artists, like Aaron Anderson, uses them only once, so that each piece is unique. In early Navajo cast work, you can almost see the molten ore in the sinuous designs. Later pieces have a sculptural quality hard to achieve with other techniques: from the organic simplicity of Charles Loloma to the exuberance of Tony Abeyta's monumental cuff, this is truly wearable art.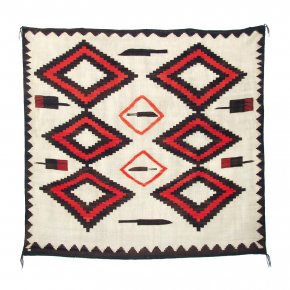 May 7th, 2020: From Wrenches to Rainbows - Navajo Pictorial Weavings
May 7, 2020
Pictorial textiles are truly representational in capturing distinct moments and experiences; the forms and stories depicted are as varied as the experience of each weaver. Many pictorial weavings were special commissions, and have names, important dates or a ranches own cattle brand. Some are inspired by daily life on the reservation, by the natural landscape, local flora and fauna, even the weavers own tools.  Many others find inspiration in the unseen, with depictions of mythological beings, of old stories, and of faith. This collection shows the unbridled imagination of Navajo artists, using wool, wefts and warps as their canvas, weavers have imagined multitudes of experiences.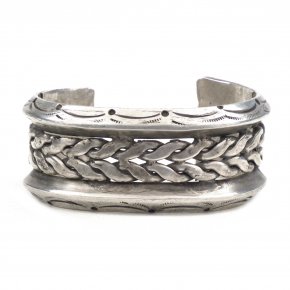 April 30th, 2020: 20th Century Navajo Silver Bracelets
April 30, 2020
Stamped, twisted, cast, chiseled, hammered and swedged: the language used to describe the manipulation of silver in this collection references the implicit force used in silversmithing, but belies the delicacy of the finished product. From the sleek modernism of the White Hogan artists to the chiseled simplicity of early Navajo work and the classic pictorial stamps of later pieces, this group focuses on the most versatile form of jewelry...the bracelet. This collection has examples of the wide range of forms and techniques that Native American silver work used throughout the twentieth century. Suitable for men as well as women, for bohemians as much as businesspeople, the designs in this selection of vintage bracelets are varied and versatile, but above all, timeless.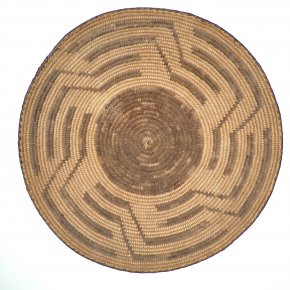 April 23rd, 2020 - Woven Wonders: Native Basketry of the American West
April 23, 2020
Basketry is an art form that has developed from a myriad of utilitarian styles as varied as the cultures who produce them. From the gathering trays of the Pima to the peach baskets of the Hopi, most basketry styles originated from specific cultural and environmental conditions. This collection features baskets from different Native peoples across the western United States, dating from the late 19th century to the present day. Woven from tender willow branches, cornhusks, yucca fibers, sumac, devils claw, sedge and other foraged materials, they bring an organic feeling, a softness, to any interior. From simple miniature burden baskets to the most exquisite pictorial tray, the uniting theme of this collection is the creative use of humble materials.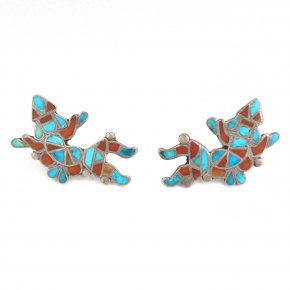 April 16th, 2020: Of the Moment - Channel Inlay
April 16, 2020
Channel inlay is an art form born of necessity, of deprivation. It is a laborious technique developed to optimize scraps, a way to use the remainders of more desirable, larger cuts. Evolving from humble beginnings, it has become a distinct and elevated art form. This style is most closely associated with the artists of Zuni Pueblo, but as is reflected in this collection, it is also used by Hopi and Navajo jewelers. This technique celebrates design and technical proficiency, and is used in the elaboration of abstract and figurative designs, ranging from geometric forms to detailed representations of mythical figures. Beginning in the 1950's, Zuni artists began depicting popular cartoon characters, executed in semi-precious stones. Today, these Zuni Toons are one example of the wide variety of channel inlay styles coveted by collectors.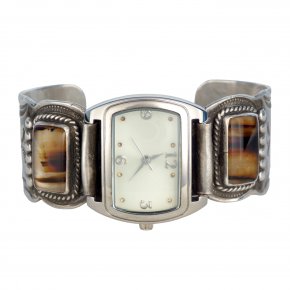 April 9th, 2020 - Agate Jewelry
April 9, 2020
In the 1930's and 1940's, with restrictions on turquoise mining due to World War II, Native artists began using petrified wood and other types of agate in jewelry. It is a material found in prehistoric southwestern jewelry, and exists in deposits all over the west. Agate jewelry experienced a resurgence in the 1970's, fitting perfectly with the organic, abstracted designs of cutting edge artists like Charles Loloma. Contemporary jewelers continue to use this versatile and varied mineral, finding the smoky subtlety of colors equally pleasing with both gold and silver.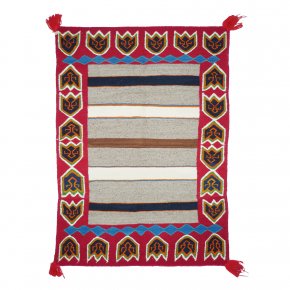 April 1st, 2020 - Saddle Blankets
April 1, 2020
Coveted by ethnographic collectors, Navajo saddle blankets have been continuously produced for both Navajo use and trade for more than 160 years. During the early 20th century, Navajo saddle blankets were preferred by horsemen above all others. Today saddle blankets find use as floor rugs, wall hangings, and for special occasion under the saddle. Collectors appreciate the unique, timeless Navajo aesthetic displayed by the juxtaposition of simple open fields contrasted by elaborate borders, decorative accents, and bisected design planes. At Shiprock we like to imagine the blankets as they were used in the early 20th century, hanging on corral gates and in the barn, but their sophisticated artistry and handmade feel truly complement any modern setting.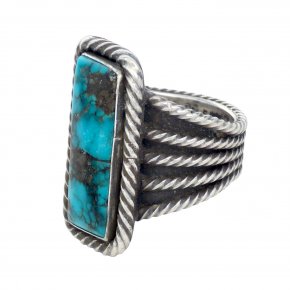 March 17th, 2020, Of the Moment: Turquoise Rings
March 17, 2020
For this collection, we are pleased to celebrate the changing of the season, the storing away of gloves and mittens and letting our hands see the sun again. Spring is here and we are showing off our rings! We are pleased to add a selection of vintage beauties to the website, with a wide range of techniques and styles. In this group there are options for all tastes, from a cluster ring with forty individual bezel set pieces of turquoise to a Zuni channel inlay that calls to mind the scales of a fish, and turquoise cabochons cut and shaped into teardrops, octagons, and ovals. One of our favorite aspects of vintage turquoise is the variety and depth of color. Stones with rich hues ranging from the bright green of budding leaves to the cerulean blue of the high desert skies of New Mexico, these rings will bring a flash of color and history to your hand.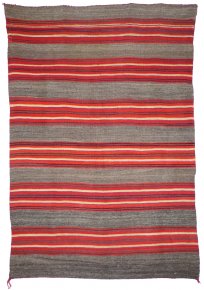 February 20th, Banded Blankets
February 19, 2020
There is a word in Diné, diyugi, which has been translated as "fluffy" or "soft," but which is commonly used to reference a type of weaving, the everyday blanket. In this collection, we present a group of banded blankets of both Pueblo and Navajo origin. While there are certain characteristics associated with either weaving tradition, we are focusing on the commonalities rather than the differences. These blankets are made of softly woven, handspun wool, and find patterns in compound stripes, using the limited range of dyes available at that time period. This collection dates from the waning of the 19th century, and harkens to the moments of everyday life encapsulated by these objects. In terms of design, they speak to a different sensibility, to an appreciation of a simplicity of form, with a celebration of negative space. The very fact that these blankets have survived for more than a century attests to the fact that while they were everyday objects, they are anything but ordinary.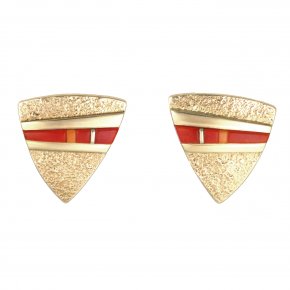 January 31st, 2020: Of the Moment, High Desert Coral
January 31, 2020
We are pleased to present to you a spectacular collection of jewelry from some of our favorite artists. The uniting theme in this collection by Native jewelers is the use of coral. Coral, especially in its deep red form, traditionally has strong associations with love, wealth, fertility and as a protective charm. While coral has been used for hundreds of years in the Southwest, first arriving with the Spanish, for this collection we have focused on the luminaries of 20th and early 21st century jewelry. From Lovato to Yazzie, and from Leekya to Loloma, this collection is Southwestern jewelry at its most refined.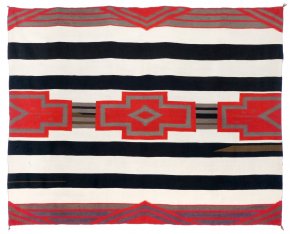 January 16th, 2020 - Germantown Textiles
January 14, 2020
Germantown, Pennsylvania was founded in 1683, and from its very beginning was a center of textile production, but it wasn't until the Civil War that it became known for industrial wool mills. As textile mills proliferated, "Germantown" became synonymous with worsted weight 4 ply wool, and this high quality yarn began to be shipped around the country. Although the Diné first began using machine milled yarn during their imprisonment at Bosque Redondo, it was the arrival of the railroad to the reservation in the 1880's that spurred an explosion of Navajo Germantown weavings in the 1880-1890's, and the vast majority of extant weavings date from this period. One of the most lauded type of Navajo weavings, Germantown eye-dazzlers are characterized by intricate and colorful designs, often incorporating serrated diamonds as decorative elements. Having access to store bought wool meant that weavers didn't have to prepare the wool, and were able to dedicate more energy to detailed and time intensive designs.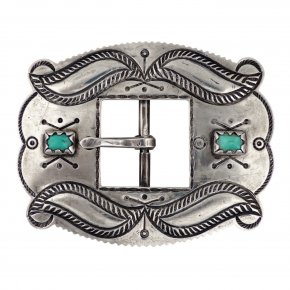 December 19th, Of the Moment: McKee Platero
December 18, 2019
We are pleased to offer a rare treat for the holiday season: a collection of jewelry by legendary Navajo silversmith Mckee Platero. Mckee Platero is one of the most sought after contemporary Native silversmiths. Collectors prize his heavy gauge repoussé, original designs and exquisite stampwork. This group is vintage Mckee, and came to us from a private collection where it has been treasured for many years.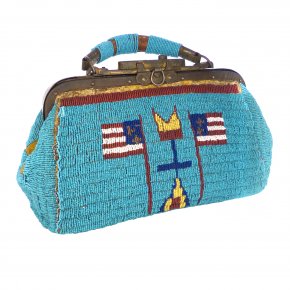 December 11th, 2019: A Group of Extraordinary Objects
December 11, 2019
As the year rounds to a close, and we are presented with best- of lists and curated gift guides, we reflected on pieces that have moved us and chose a group of personal favorites for this collection. No single unifying theme, only that each piece is extraordinary. From the buttery leather of a hundred year old bandolier bag to the burnished ochre of Diego Romero's newest masterpiece, each object in this group is from a distinct moment in Southwestern history. A technicolor Childs blanket from the 1870's, and a 1960's lapis necklace which gently rests on the clavicle, this collection speaks to the ability of art to transcend trends as well as time, and show that true treasures are forever pieces.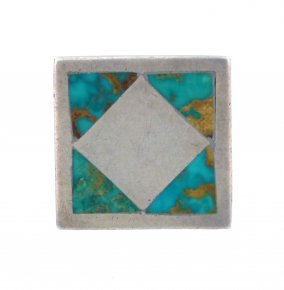 December 4th, 2019 Of the Moment, Blue Gem Turquoise
December 3, 2019
Blue Gem turquoise was discovered in 1934 in Nevada, and quickly became popular for its distinctive deep color, and gem quality stone. One of the most recognizable types of turquoise, it is prized by collectors and jewelers alike. We are pleased to present this collection, which features early unidentified jewelers alongside known and collected masters of the mid 20th century. The work in this group represents a variety of styles and techniques, from channel inlay to intricate silverwork and repousse, and serves to highlight the predominate fashions in Native silverwork of the mid 20th century.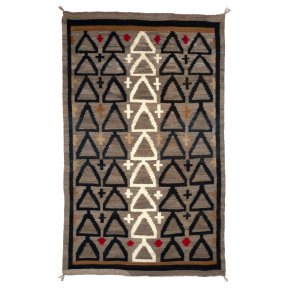 November 14th, Of the Moment - Cross Textiles
November 14, 2019
With this exquisite collection, we celebrate a truly universal design in an iconic form. Representative of a positive force or seen as a directional symbol, among the Diné it is referred as a Spider Woman's Cross. In Navajo oral traditions, Spider Woman taught the Navajo to weave by constructing a loom made of earth and sky cords. Crosses are a favored motif for weavers and are found on Navajo weavings from the Classic period to contemporary times. This collection focuses on the late 19th and early 20th centuries, the beginning of the Trading Post Era and the development of styles and color combinations that have become synonymous with Navajo weaving.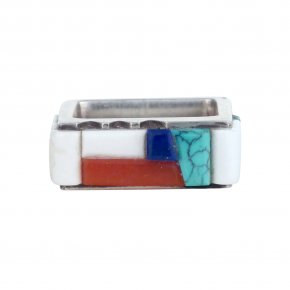 Richard Chavez, Master Jeweler
October 23, 2019
We are pleased to offer you an incredible selection from master jeweler Richard Chavez. Richard Chavez was born in 1949 and raised in San Felipe Pueblo, along the banks of the Rio Grande. His work, keeping with the belief system of his community, is non-representational, instead relying on his exquisite craftsmanship and lapidary work. In the 1970s, Richard worked as an architectural draftsman for Harvey S. Hoshour, as well as attending UNM's School of Architecture. These experiences greatly influenced his aesthetic as well his artistic process.To this day, every piece which he creates begins as a carefully drawn diagram, and Chavez continues to cite Bauhaus and Van der Rohe as inspirations for his jewelry. Richard Chavez's work uses innovative materials that are painstakingly selected, piecing stones of irregular lengths and widths to create practically seamless creations, which are distinctly contemporary but celebrate the beauty of organic materials.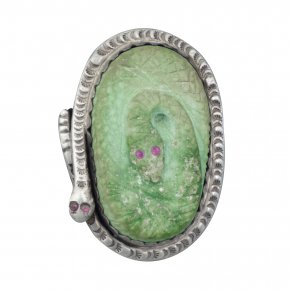 Leekya Deyuse: Master Zuni Carver
August 24, 2019
Leekya Deyuse (1889-1966) is perhaps one of the most famous and sought after Zuni Fetishists of all time. His animal figures, necklaces and turquoise figurines that are still distinctive among fetish carvings and highly valued. He is shown in museums and collections throughout the nation because of his exquisite craftsmanship and artistry.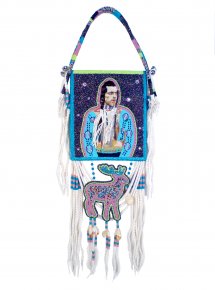 Sonwai & Ken Williams Jr., Indian Market 2019
August 15, 2019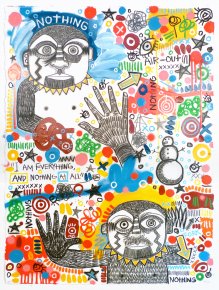 Phillip Vigil, Indian Market Show 2019
August 14, 2019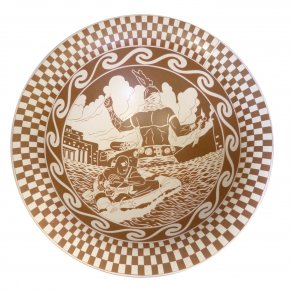 Diego Romero, Indian Market Show 2019
August 13, 2019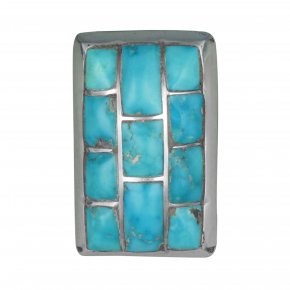 Beautiful Blue Rings, August 29th, 2019
July 29, 2019
We are pleased to present some of our prettiest blue turquoise rings in a variety of shapes and sizes!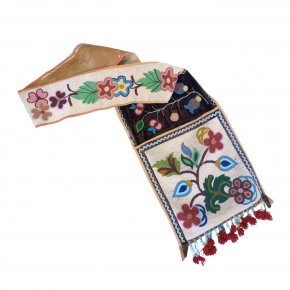 May 21st, 2019: Of the Moment Plains & Plateau Beadwork
May 21, 2019
We are pleased to announce a special group of Native American beaded objects from a Santa Fe collection. All of the pieces in this collection date from the late 19th and early 20th century, and mark a transitional period from items of personal use to beaded items made for sale. Some items are ethnographic, such as the strike-a-light bag made to carry flint, but the stars of this collection are the handbags, which are completely beaded in intricate Central Plains beadwork. In a time of upheaval and uncertainty, Native artists of the Plains improvised with traditional techniques and innovative materials to create portable masterpieces that celebrated traditional arts as well as appealing to a wider audience. This collection has examples of quillwork, Chippewa Ojibwe floral scrollwork, and traditional Lakota geometric as well as pictorial beadwork.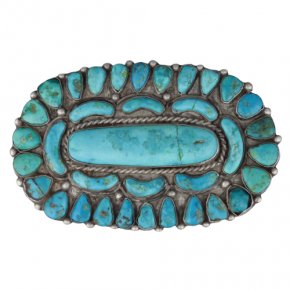 February 21st, Of the Moment: Southwestern Belt Buckles
February 21, 2019
We are thrilled to present a huge group of vintage belt buckles and ranger sets in our featured Of the Moment collection. This selection draws from several different artistic traditions, ranging from early Navajo cast buckles, commemorative rodeo pieces and beautifully inlaid Zuni ranger sets. This group also reflects our continuing effort to represent the finest Southwestern artists of the 20th century, including Charles Loloma, Kenneth Begay and Julian Lovato. With over a hundred pieces to choose from, and a variety of price points, we like to think that there is something for everyone, so please enjoy the collection!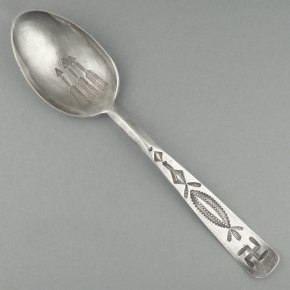 January 2019 OTM Navajo Spoons 1900-1950
January 18, 2019
In the last decade of the 19th century, a craze for collecting souvenir spoons began spreading across the US. Originally thought to have originated in Europe, the craze was helped along by the Chicago World Fair, and the crash of the silver market in 1893. This moment in history coincided with the expansion of the railroads out west, and the first commercial tourism to the southwest. The Native silversmiths of the southwest, Pueblo and Navajo artists, capitalized on this trend, and began making embellished silver utensils for sale to tourists and collectors alike. While some spoons from this time period are engraved with place names, it is much more common to see teaspoons adorned with typical "Indian" style stamps. One commonly occurring design was a swastika, known among southwestern people was a "whirling log." Originally found in Navajo sandpainting, they began occurring in weavings and jewelry around the turn of the 20th century. Its use continued until 1940, when an accord was signed by Navajo, Papago, Apache and Hopi peoples to discontinue its use because it had been "desecrated recently by another nation of peoples."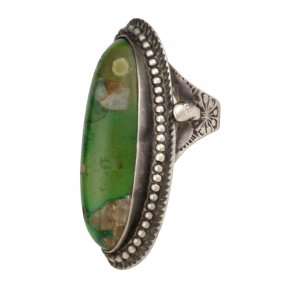 December 16th, 2018: Of the Moment
December 15, 2018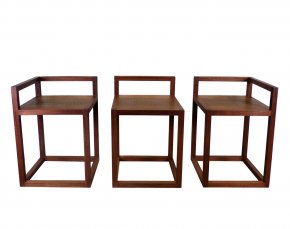 Boyd & Allister
December 15, 2018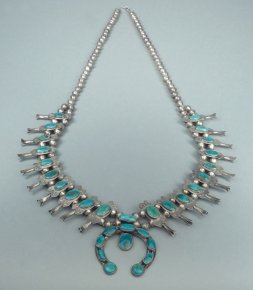 October 25th, Of the Moment: Squash Blossom Necklaces
October 25, 2018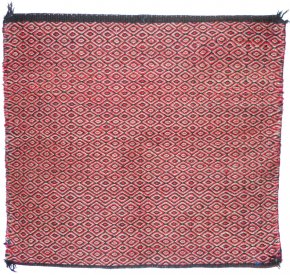 Oct 4, 2018 Of the Moment
October 4, 2018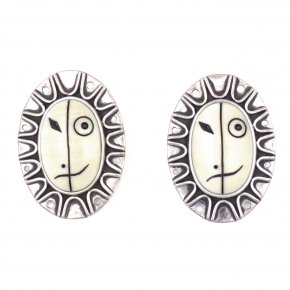 September 20th, Of the Moment: Denise Wallace
September 20, 2018
Alternately powerful or whimsical, Denise Wallace's jewelry displays a technical mastery of her materials as well as an exquisite eye to detail. Wallace began making jewelry in the late 1970's while a student at the Institute of American Indian Art in Santa Fe, NM, and worked alongside her husband Samuel until his death in 2010. Their jewelry is in the permanent collections of a number of museums, including the Museum of Arts and Design in New York and the Mingei International Museum in San Diego. She uses a wide variety of materials, from gold and silver to sugilite, but is perhaps best known for her exquisitely detailed scrimshaw carvings on fossilized walrus ivory. Often incorporating imagery inspired by her Chugach Aleut heritage, her work focuses on themes of transformation, represented in her jewelry by the doors that frequently appear in her work. Shiprock Santa Fe is pleased to offer this unprecedented selection of work by Denise and Samuel Wallace.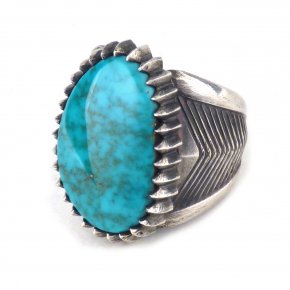 August 23rd, 2018: Sky Blue Hawk
August 23, 2018
Artist, designer, and renowned turquoise expert Yasutomo Kodera first came to the United States from his home in Japan to attend university. It was then that his love affair with the Southwest, Native American jewelry and turquoise began. Employing his extensive knowledge of turquoise, he uses gem quality American turquoise from hard to source mines, as well as Momo coral from the Sea of Japan in his creations. We are pleased to have this collection of Kodera's jewelry line Sky Blue Hawk in gallery for a limited period of time.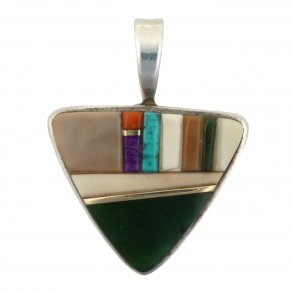 August 17: Of the Moment Sonwai and Ken Williams Jr.
August 17, 2018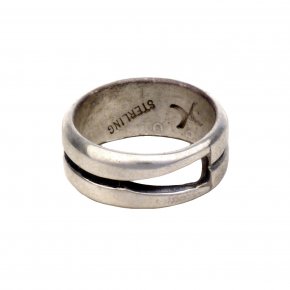 July 5th Of the Moment: Cippy Crazy Horse
July 5, 2018
Cippy Crazy Horse We are pleased to present a stunning new collection of jewelry by Cippy Crazy Horse. Highly sought after and collected world wide, Cippy has been making jewelry since 1974, and his striking style is instantly recognizable. Using early silversmithing techniques and antique stamps, Crazy Horse continues to develop new and contemporary styles.
July 5th 2018 Aaron Lopez Bautista Trunk Show
July 5, 2018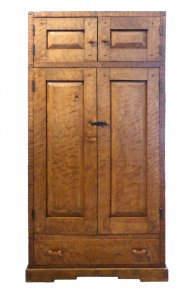 June 21st, 2018: William Penhallow Henderson,(1877-1943)
June 21, 2018
Perhaps no other artist more perfectly exemplifies the artistic community that formed in Santa Fe in the early part of the 20th century as William Penhallow Henderson. A classically trained painter, Henderson was already an accomplished artist when his wife contracted tuberculosis, which brought them to Santa Fe in 1916. Initially, they planned to stay for one year, but like so many others, the culture of the Southwest and the high desert air enchanted them, and they stayed in New Mexico for the rest of their lives. Partly due to the distance from traditional art markets, Henderson expanded his artistic repertoire to designing buildings and furniture. He designed the building that now houses the Wheelwright, as well as a number of residences in town, notably the White residence, now the School of Advanced Research. He created and built furniture for the houses he designed, incorporating Native American motifs with his distinctive, hand carved and hand adzed pieces. This monumental ropero is a perfect example of the simple and elegant style, which Henderson was renowned for, of letting the natural wood and textures created by hand carving serve as ornamentation. This armoire has the added distinction of having a removable contemporary inset, designed and built by Santa Fe artist Sergio Tapia, which perfectly caters your entertaining needs.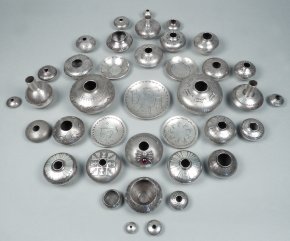 June 7th, 2018 Of the Moment: Norbert Peshlakai
June 6, 2018
We are pleased to offer an exquisite collection of seed pots by Navajo silversmith Norbert Peshalakai. The pots in this collection date from the 1990's, and were exhibited together at the Eerie Art Museum as part of the Kappmeyer collection of Native American art in 1997, and published in the exhibition catalogue "In the Spirit of the Ancestors." Norbert Peshlakai comes from a long line of Navajo silversmiths, and is known for his entirely unique stamps and for innovating the silver seed pot form. His work is in numerous permanent collections, and is currently the subject of a one-man retrospective, curated by Ken Williams Jr., at the Wheelwright Museum of the Native American in Santa Fe, NM